News, Announcements and Events..
Kinetic release SDR# interface
Kinetic is delighted to release another free and benefitial upgrade to the SBS-3 firmware and Basestation application software
The new firmware, driver and application software allows developers to extract I&Q from the SBS-3 and users to be able to use SDR# either standalone or with Basestation.
Download today from our website.
The New Year will see a significant change at Kinetic, as we will no longer sell our SBS-3 and other consumer products direct to the public or dealers.
Chris Taylor, our Sales and Product Manager for the past two years, will fulfil his ambition to run his own business, Taylor Made RF Limited.
Chris has our fullest support in this new, and completely separate business venture, and as of 1 January 2013 will become our distributor based at Elstree Aerodrome. Taylor Made RF Limited has taken premises from us, and we have just completed a re-organisation and building works to enable Chris to be totally self sufficient and trade with dealers and the public alike, and to be able to expand his product offerings to include other manufacturers products.
Our dealers have always received a healthy margin from us in order to enable them to provide a comprehensive support capability to their clients. Having reviewed the levels of support provided and customer feedback, which we have always taken seriously, we have agreed with Chris that the number of dealers should be reduced in order to maintain the quality of service that customers expect. It is important that customers understand their rights to support from their point of sale dealer.
Like most manufacturing businesses, Kinetic will not handle support directly and customers will be directed back to their point of sale dealer. Taylor Made RF Limited will offer chargeable support services including remote installation and remote support on a per incident basis.
Due to the huge amount of support material on the forum bearing Chris's handle, KineticChris, he will continue with this handle until such time as we can provide a smooth transition over to a new handle. The E-Store has been closed and links will be promoted to Taylor Made RF Limited as our distributor.
We regret that it will not be possible to transfer calls to Taylor Made RF Limited.
This exciting transition will enable Kinetic to focus on continuing research, design and development of exciting and innovative new products whilst ensuring that competent and comprehensive sales and support services are available.
Chris will continue to have direct access to the development team which means he will be the best placed person to represent to and provide feedback from , the trade and the public, regarding our products.
www.taylormaderf.co.uk
Latest Basestation Release and SBS-3 Firmware
Kinetic are delighted to release a new version of Firmware and Basestation for beta testing, available from our website - now. This enables the SBS-3 to act as a standalone client with the ability to open a socket back to a server application. Write your own systems using our freely available API.
This release of BaseStation also supports the new PUCK devices from Kinetic. Also included are a number of feature fixes.
The 1090 PUCK and SDR PUCK have arrived with us and sailed through in-house testing. Read more by clicking on the link icon.
A new version of Basestation has been released and is available from the downloads section of our website
New beta release for BaseStation available
A new version of the Basestation executable has been made available with numerous fixes as requested by our users. The download can be found in the Beta section of the Downloads area of the Support area.
6 Channels are here.
Hear Hear, Hear Hear, Hear Hear !!!
Kinetic Avionics Limited is delighted to announce the release of beta firmware and a Basestation release to provide 6 receiver channels on the SBS-3.
The release is available now from the Downloads area of our site.
Kinetic to release lightweight, portable, price busting hardware.
Kinetic Avionics Limited today announced the forthcoming release of two new, low cost, receivers for the 1090MHz ADS-B and SDR markets design to compete and undercut competitors such as AirNav, whilst delivering Kinetic traditional quality. These will be released at the same time and will come complete with Basestation software for Microsoft Windows.

In order to run the PUCKs on a Mac or Linux platform, you will require either Parallels or VMware software, available from their suppliers.

The "BLUE PUCK" is a 1090 MHz ADS-B receiver as used in the SBS-3. It comes complete with a 1090 MHz antenna and connects to the computer using a micro-USB lead. The "BLUE PUCK" will allow existing users to move from home to the field swapping between their SBS-3 and "BLUE PUCK" without having to make any configuration changes to their BaseStation setup.

The "BLACK PUCK" is a single receiver SDR, operating from 27 MHz to 980 MHz, using the same technology as the SBS-3. Providing digital / audio over USB and or reception of ACARS , AIS and broadcast stations.
Again, this device is intended to support existing SBS-1 customers and new customers alike.

Both devices will be very competitively priced to undercut competitors and offer the class of functionality provided by the SBS family of devices.
Following feedback from our users, the Forums have been returned online and Kinetic will start an active consultation with users to aid the pruning process. Resources are now centralised on our main website.
Resources available directly from this site.
The forum resources and SBS Resources are now available from this site. Kinetic will be providing a new interface to request specific resources such as logos and for our loyal providers to provide such resources respecting their relavent copyright notices.
SBS-3 to provide 6 SDR Receiver Channels
Kinetic is delighted to announce the forthcoming release of new firmware for the SBS-3 to provide an additional two SDR receiver channels bringing the total number to six. An updated release of BaseStation will also be made available to control all the receivers and an updated version of the Application Programming Interface (API) will be published on this site.
Six channels allows users to monitor ACARS, ADSB and AIS simultaneously whilst still being able to listen to a suitable audio frequency.
Uplifting the total number of channels to six raises the performance bar of the SBS-3 which already stands head and shoulders above the rest.
SBS-3 to contain scanner functionality
Kinetic is delighted to announce the forthcoming release of new firmware to provide scanner type functionality for the SBS-3
The API (Application Programming Interface) will be updated to include the enhanced command set and functionality and the BaseStation application will also be upgraded to offer scanner control.
Kinetic is delighted to announce that we have completed the move of our servers to a new high speed backbone to improve the user experience and in preparation for additional services which we will be rolling out later in the year.
Updated Apple prototype software released
Dr. Gaby has produced an updated version of the Apple native prototype application that works with the SBS-1 family and SBS-3 devices as well as working under Lion.
It is provided as a proof of concept application only and is not intended to replace BaseStation.
It does have some nice features which will appear in the BaseStation re-write and it is a proving ground for us.
Thanks Gaby !
Second Open Beta released
A second beta for Basestation has been released providing ACARS message log files in CSV format with user selectable rollover, path and filename. A date column has now been added to the ACARS display table and ACARS messages can now be optionally displayed in their table in reverse order, the newest messages inserted at the top of the table.
An updated version of the API documentation and header files has been released and is available from the support area on the web site.
ACARS Decoding is here !!
Kinetic is delighted to announce the availability of a Beta release of the ACARS decoding and display is available from our website.
The new firmware provides internal ACARS decoding on any of the the 4 SDR channels and the latest BaseStation software release provides not only a display of ACARS data but a socket stream interface as well.
This release cements the SBS-3 as the finest product of its kind in the world.
A triple A product providing ADS-B, ACARS and AIS plus a multi channel SDR receiver. All in one box. Outstanding.
ACARS Decoding release date announcement
Kinetic is delighted to announce the forthcoming release of firmware to include internal ACARS decoding as well as the AIS decoding already released.
The expected release date is May 18th and this will place the SBS-3 head and shoulders above any competition. One device providing legendary 1090 reception and decoding, two SDR tuner with 4 channels. Built-in AIS and ACARS decoding with UAT decoding scheduled before the summer.
And listen to the radio as well on VHF and UHF from 26MHz through to 980MHz.
All of this without requiring your PC to do the decoding and offering a standalone server box WITH a published Application Programming Interface, USB and Ethernet interface, serial GPS interface and auxillary input output port.
AIS NMEA decoding built into SBS-3 firmware
Kinetic is delighted to announce the release of the latest firmware on Monday 23rd April 2012 for the SBS-3 which features AIS NMEA decoding directly within the SBS-3 without any need for an additional PC.

Simply open a connection to the SBS-3 and receive a stream of VHF AIS data, as well as Mode-S data, without the requirment to waste money on additional receivers and decoders. Our Beta team have successfully tested the firmware which has been proven to work with PlanePlotter, ShipPlotter and CombiPlotter from COAA

With internal ACARS decoding and UAT decoding scheduled for development, we look forward to a busy development and delivery timetable, and as standard with Kinetic - firmware updates are FREE of charge.
SBS-3 USB Host interface adaptor
Kinetic is delighted to announce the forthcoming release of a USB host controller adaptor for the SBS-3 with firmware to drive the Saitek Radio Panel directly. The interface permits the user to tune the frequency, set the frequency steps, volume, squelch and mute for all four SDR channels without the requirement for a PC.
When the SBS-3 is used with our BaseStation software application the Saitek Radio Panel becomes a high visibility remote frequency display giving gravitas to any users setup. The adaptor has now completed internal Beta testing and should be with our external Beta testers imminently.
New DC power supply range for SBS-2
Kinetic is pleased to announce an increased range of power supplies is available for the SBS-2. We are now able to offer 12V 24V 48V 72V 250V type supplies all at DC level in place of the AC unit.
Kinetic drop Amplicon Liveline Ltd for SBS-2 Chassis supplies
Kinetic Avionics Limited has dropped using Amplicon Liveline Ltd for the supply of the SBS-2 system chassis. Due to breaches of the company's own published Ethical Policy, with supply quality having fallen below acceptable limits, with regularly slipped delivery timescales and with increased difficulty communication these issues back to that company, Kinetic can no longer satisfy itself that that company is suitable for the supply of parts. Kinetic's duty is first and foremost to its customers, its reputation and its employees.
Kinetic is pleased to announce that it has now switched to using an alternative supplier renown for quality and with an extensive and audited list of satisfied customers.
Our customers will be pleased to note that while there are no noticable working or physical differences in the product the range of power supply options have increased to allow for DC supplies.
Kevin Paterson writes again
After departing RadioUser to seek new challenges, former Military Editor and the man behind the popular SBS Files, KEVIN PATERSON, teams up with Kinetic Avionics to bring you a brand new interactive blog covering Mode-S and much, much more. Visit the Blog Space section of our web site for more information.
Basestation V168 Released
Basestation Version 168 has now been released with a significant amount of increased functionality and a few bug fixes. It can now be downlaoded directly from our website rather than having to visit the e-Store as requested by many customers.
Kinetic are delighted to release the Application Programming Interface documentation for the SBS-3. Write your own programs, capture live data, stream audio to your application and a host of other possibilities.
Kinetic are delighted to announce that the SBS-3 unit is in shops today and has started shipping to customers in time for Xmas and the new year. It's been hectic to meet the deadlines and components have been in short supply following natural disasters in Asia, but its here now.
The Advertising Standards Authority upheld a number of complaints against Waters and Stanton, distributors for AirNav Systems, related to their misleading advertising of the AirNav RadarBox. Despite the ruling a month ago, Waters and Stanton continue to run misleading claims on their website related to the AirNav product.
Kinetic have for a long time challenged the false claims that both AirNav Systems and Waters and Stanton make and can only direct customers to read the adjudication for themselves. Hopefully, customers will be the catalyst the companies need to commit to honest advertising and remove the misleading claims from their websites.
Customers should be aware and undertake independent research before committing to purchasing products.
Read the adjudication here.
Kinetic are pleased to announce the SBS-3 receiver has entered full production and delivery of the first 500 units is anticipated imminently.
Kinetic are delighted to announce the launch of their SBS-3 receiver which replaces the SBS-1eR and combines AIS and SDR functionality in a single unit.
Multi-channel and multi-band, complete with USB, Ethernet and digital streaming, the SBS-3 does not require a computer to act as a standalone remote monitoring station.
The units will be shipping within weeks and dealers are ready to take your pre-orders.
Click here to visit our web page and read the The SBS Files section in this months Radio User magazine exclusive.
Kinetic Avionics has moved
Kinetic are pleased to conclude their move bringing Design, Development, Sales, Accounting and Aviation activities to a unified location at Elstree Aerodrome (EGTR).
Buy your SBS-1eR, Antennas and other accessories direct and take advantage of our special offers such as FREE POSTAGE.
Chris Taylor joins Kinetic
Chris Taylor has joined as Sales & Product Manager having been involved with the SBS family of products from the start.

Chris brings a wealth of expertise with our products and is a very welcome member of our team.
Please contact Chris for direct sales and dealer liasion.
If you have any comments regarding the contents on this page,
please contact us by email at support@kinetic.co.uk
Mission
Our mission is to be the pre-eminent designer and developer of Avionic, Marine and Software Defined Radio solutions for surveillance monitoring, recording and analysis.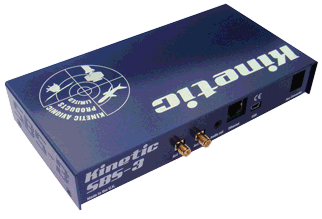 The most capable unit in class, worldwide.

The SBS-1 family was the revolution.
The SBS-3 is the evolution.

Out-performing and out-classing the competition.
Dedicated 1090MHz Receiver
Twin SDR Tuners - 6 Channels
Digital and Audio streaming
High Speed Ethernet and USB
Built-in Demodulation and Decoding. ADS-B , ACARS, AIS
GPS input and RS232 external radio control port
I2C auxiliary control port